IMED Levante hospital strives to provide a personalised care service, making the dialysis treatment as comfortable as possible.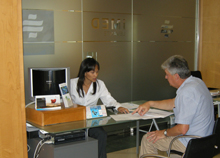 To receive dialysis treatment at the IMED Levante hospital, we require the following documents:
- Health transfer.
- Medical report.
- An insurance guarantee.
IMED Levante hospital has an application form for dialysis treatment and medical care which can be applied for by getting in touch directly with the hospital.